The Tarnished Gold campaign starts with a brief series of cut scenes that give a bit of background on the conflict. Our mission is to support the Chernarussian Stability Force (CSFOR) in their bid to prevent a resurgence of the violence that led to last year's civil war. We've been tasked to support the CSFOR (or CDF – which I assume means Chernarussian Defense Force) against the communist revolution forces known as the Chernarussian Movement of the Red Star (ChDKZ) which seeks to reestablish a communist government in Chernarus, rolling back the clock to the Soviet era. The ChDKZ are supported by the Russian Federation. Sounds a bit like current events eh?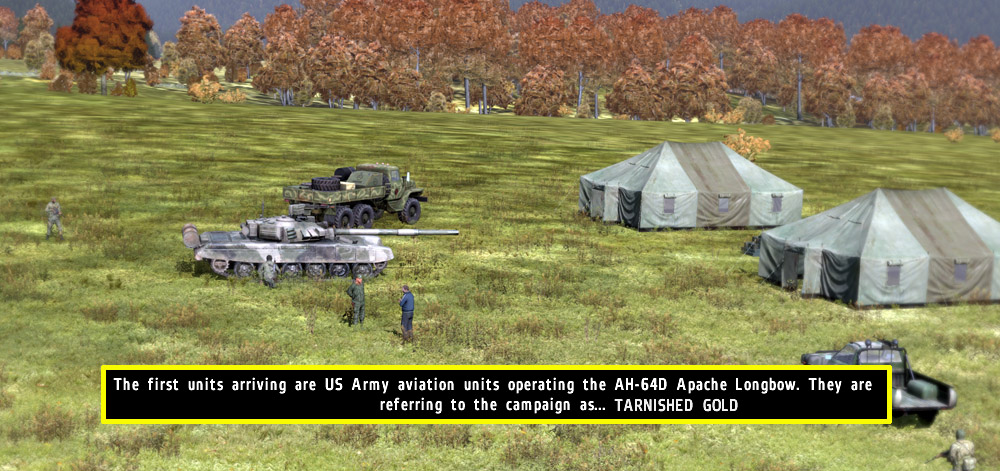 The cut scenes include images of executions and terror inflicted upon both CSFOR and civilians alike…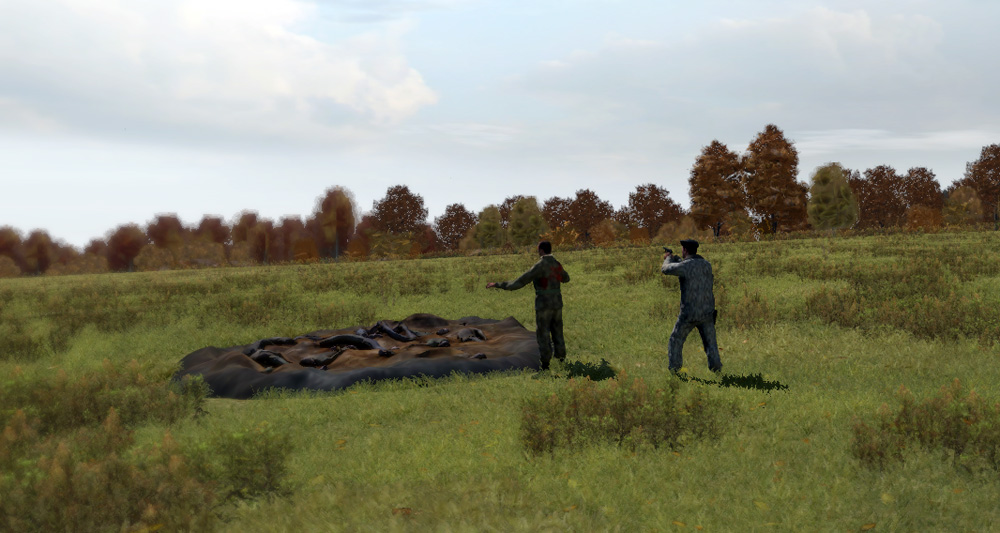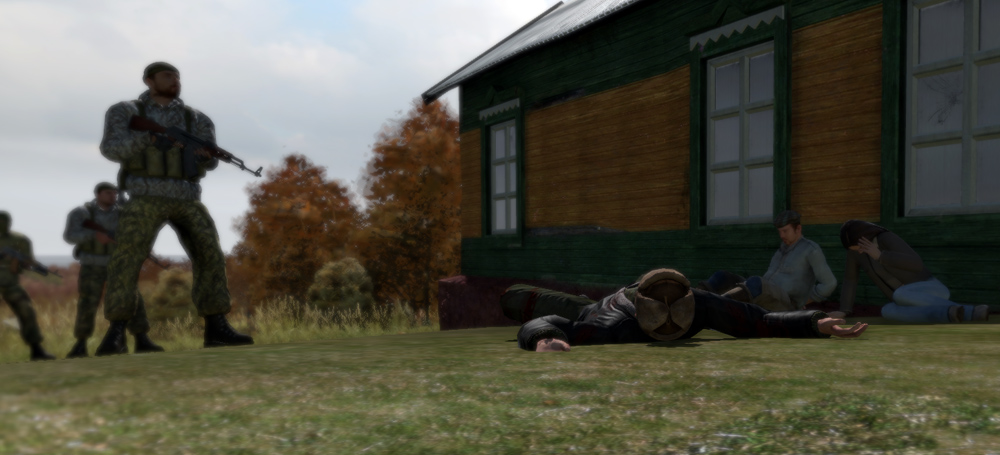 The campaign summary includes the note that Russia has extended a no-fly zone over the northwest portion of the country. No word on whether the no-fly zone is defended by Buk missiles. Our first mission is to perform a simple, routine patrol of our area of operations (AO). Though a second AH-64 will also be going on patrol, our routes are independent and don't provide for mutual support.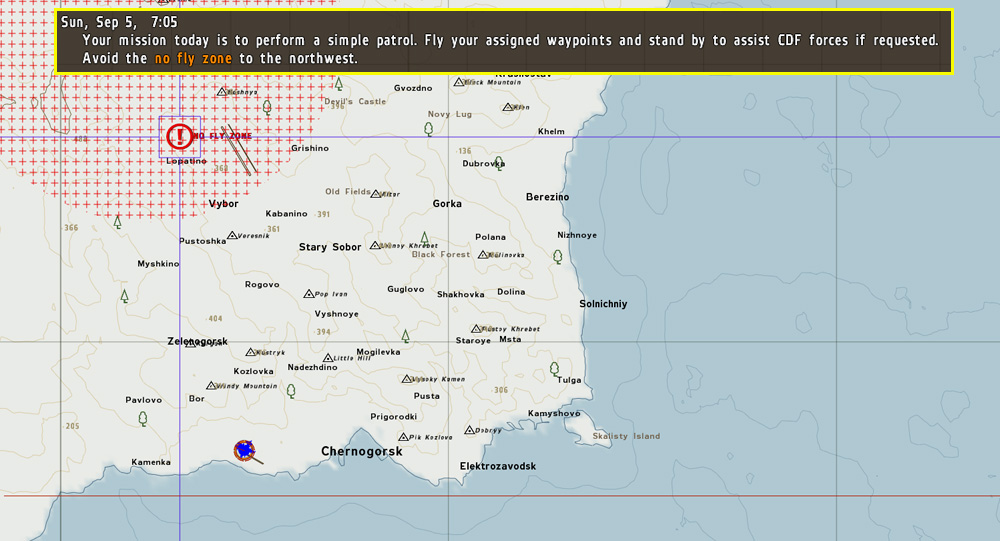 Our base is on the southern coast with Su-25s in the hangar. (Small mission gripe – I'd like to see refueling and maintenance available in all missions – I don't know if that will change in later missions. Also, it would be nice to have an ammo box at the base so that I could carry a rifle with me since you can actually stow equipment in your Apache.)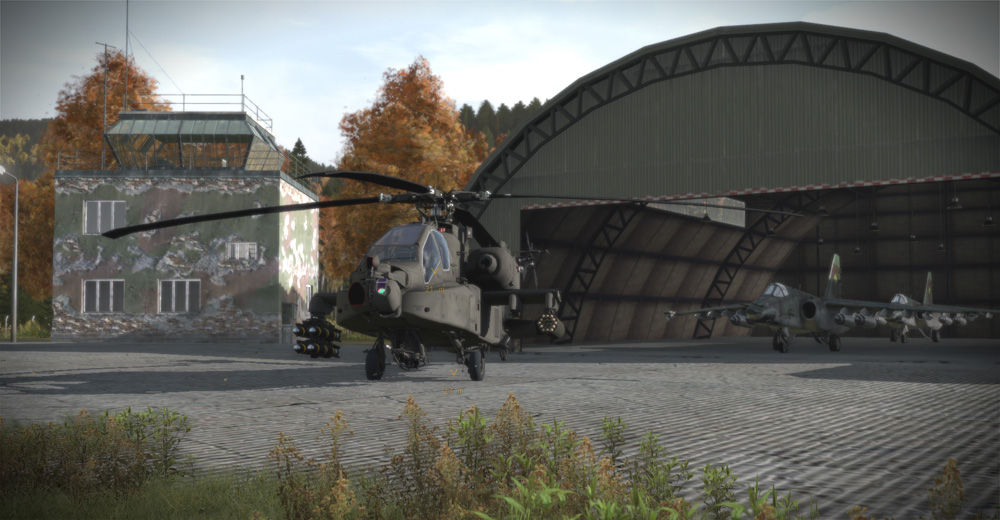 * Note – in the following shots you'll see views from both the Pilot and Co-Pilot/Gunner (CPG) cockpits. Unfortunately, you cannot switch places in flight (that I know of) so the shots are a combination from separately flown missions.
We walk to our helicopter, climb in, and I refamiliarize myself with the startup procedure (it's been a couple months). Once again I'm amazed at the work Nodunit & Franze have done on this add-on. Just incredible!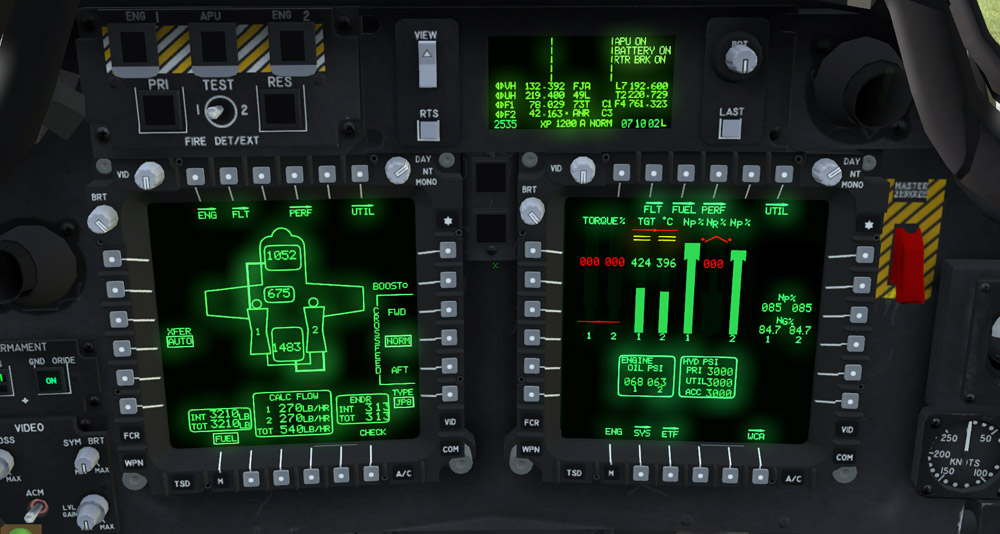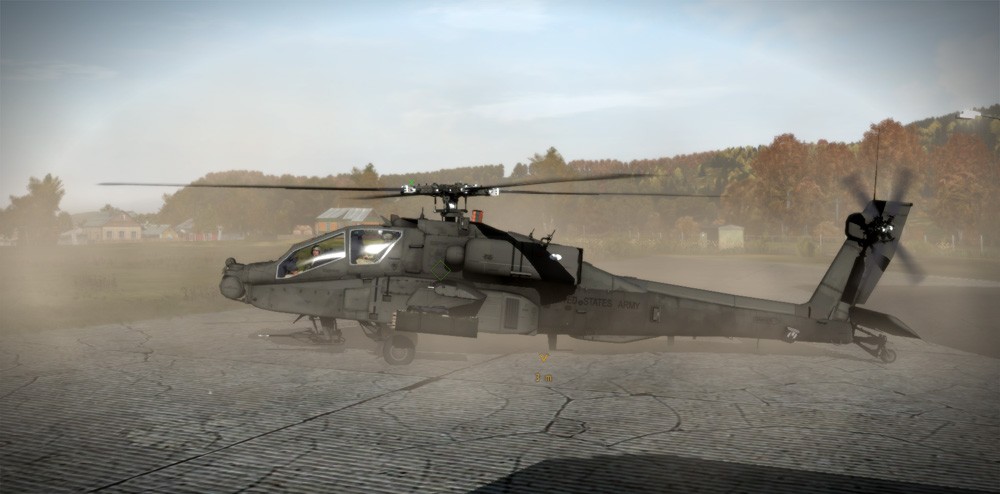 Once the engines are fired up we head off on our assigned patrol route…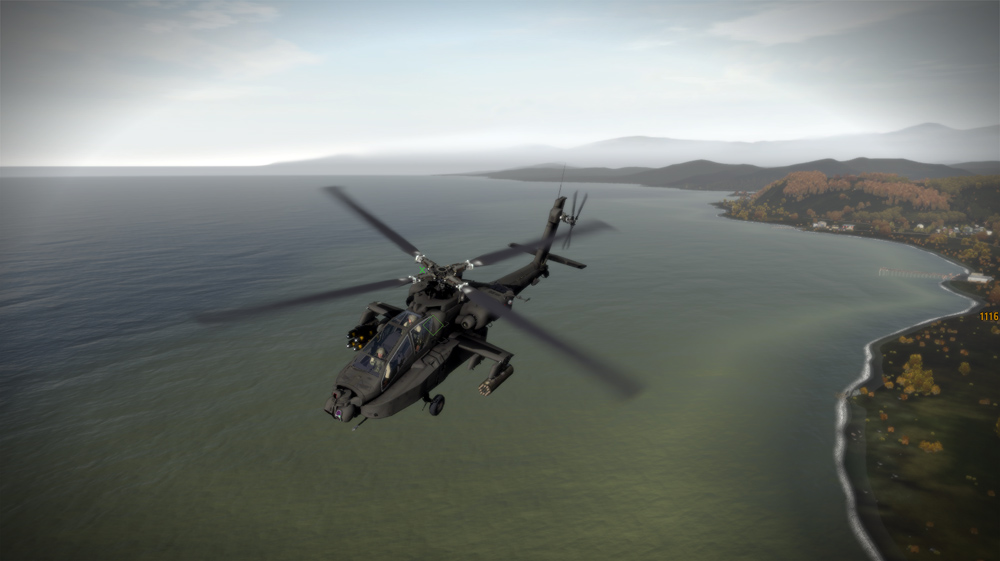 It can't be said enough how awesome the Arma (2 or 3) environments are for low level helicopter flight. Collidable trees, low level detailing, and superb lighting make for an awesome visual experience…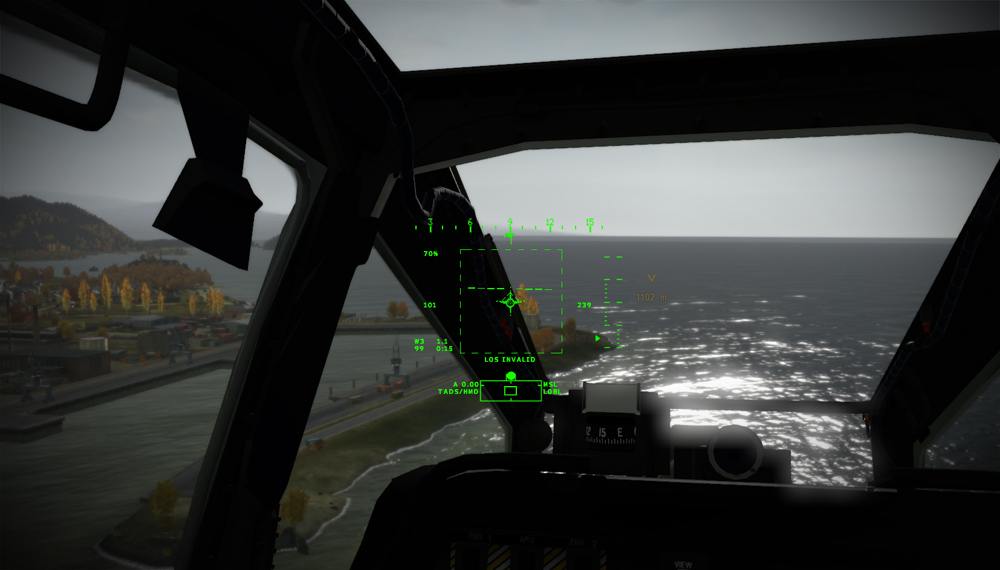 The TSD shows our route along the south coast…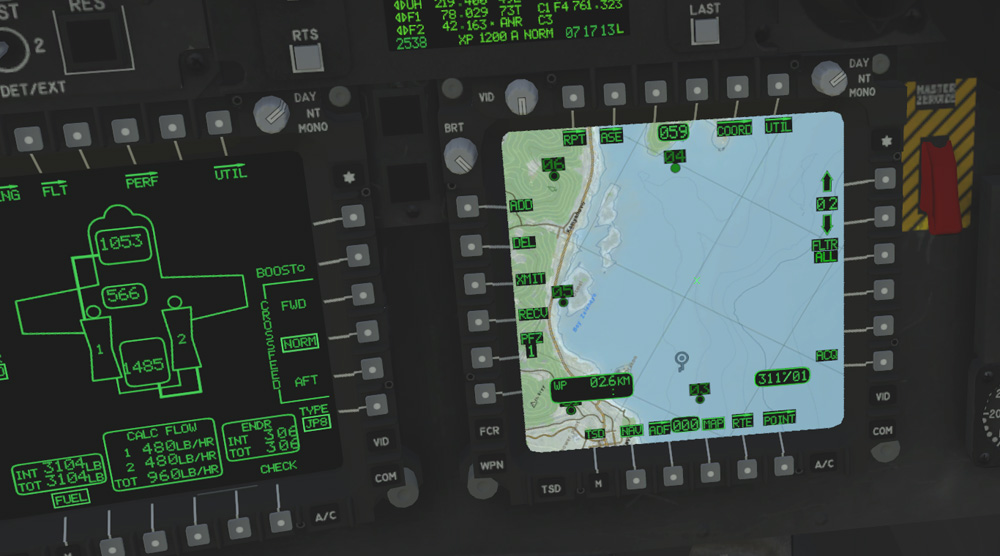 After rounding the southeast prominence, our route takes us inland to the northwest. Flying the AH-64 is a lot of fun and the helo dynamics are good enough, particularly when coupled with the excellent visuals. (Fingers crossed for a more advanced flight model and inclusion of this mod in Arma 3 at some point in the future!)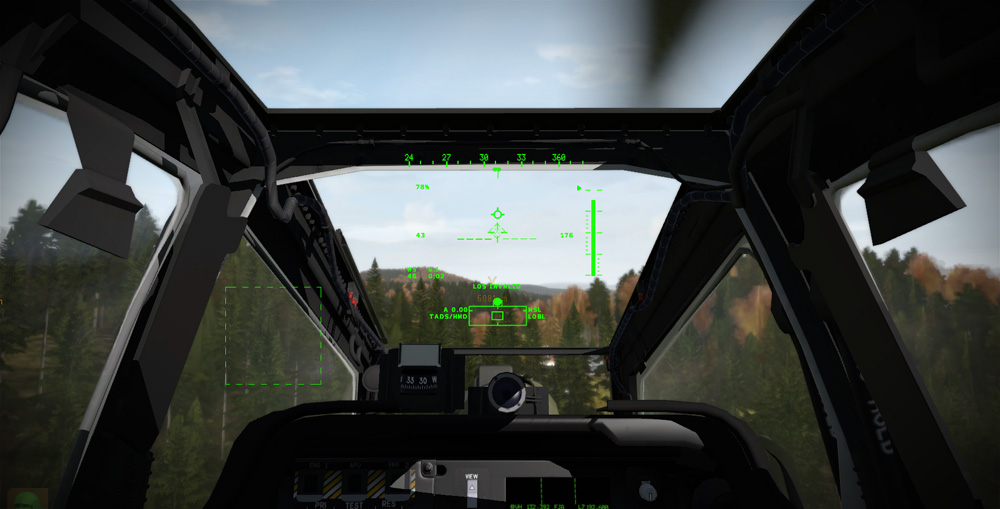 A few kilometers inland we receive a radio message to turn back to the east coast to investigate reports of a possible insurgent camp…
The point of interest is just north of Olsha near an inlet with high terrain in all quadrants…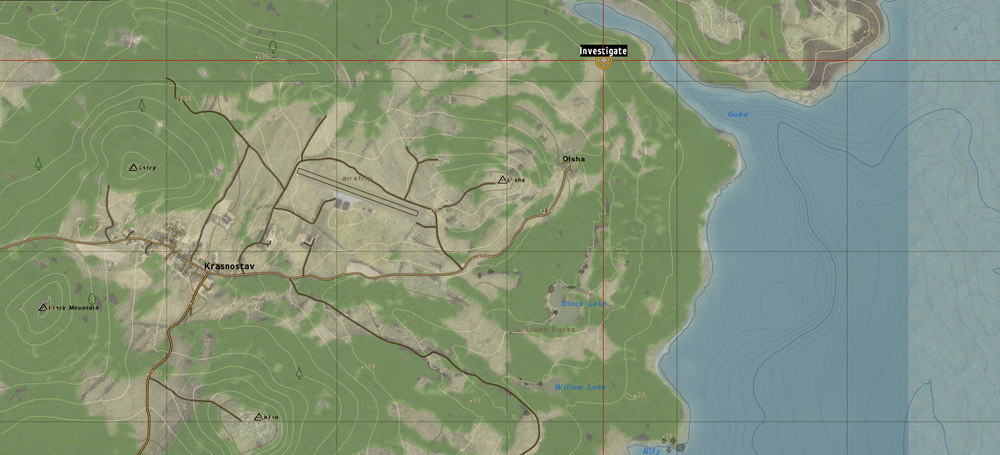 As we head northeast the CP/G TADS view shows us the terrain ahead…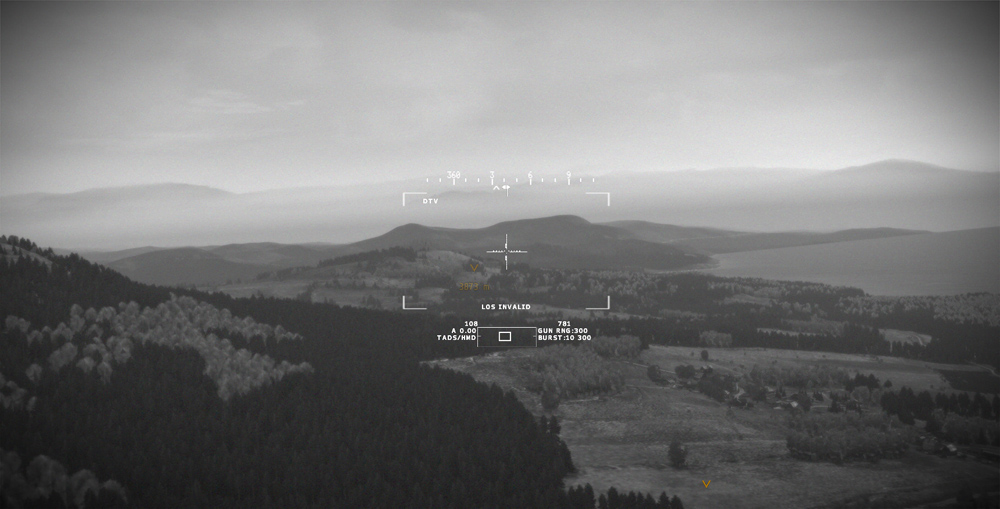 Just to the south of the target area is an airbase with no activity present…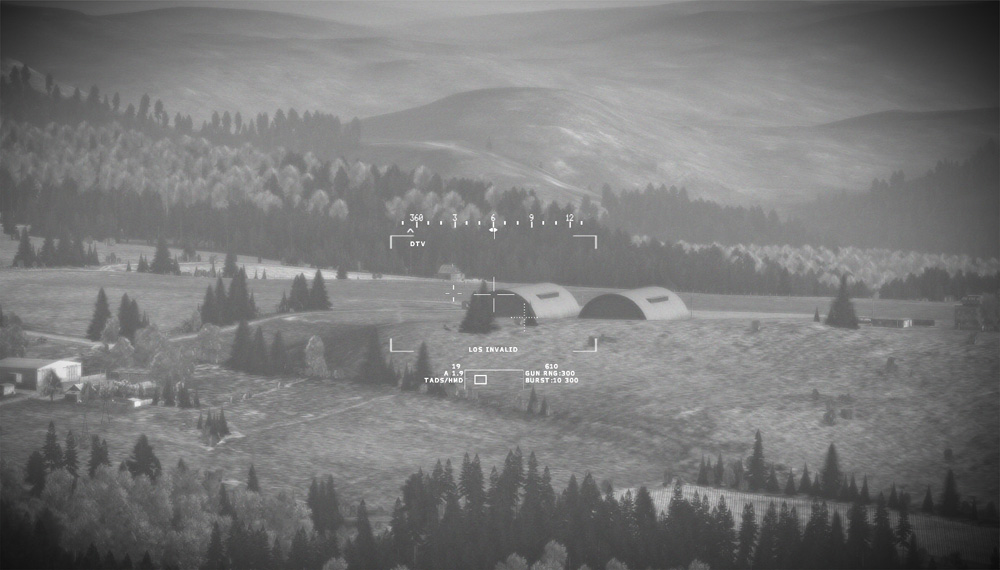 I offset a bit toward the coast so that I don't directly overfly the target area. Sure enough, as we reach the inlet tracer fire arcs up from the trees below and I break off to the east to extend out of range…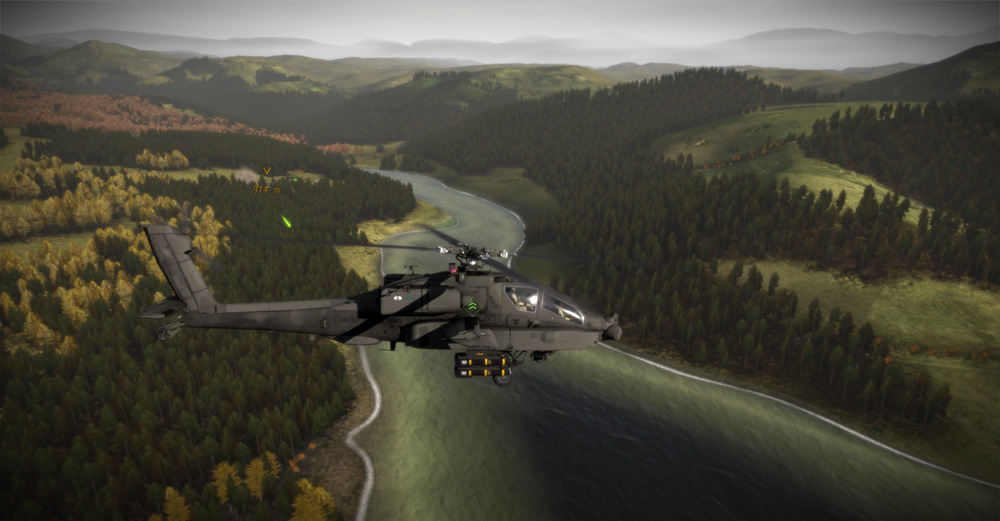 As we pass by the inlet CP/G view reveals some AA guns and a T-90 tank sitting in an encampment. A radio message gives us further instructions to disable (but not destroy) the tank…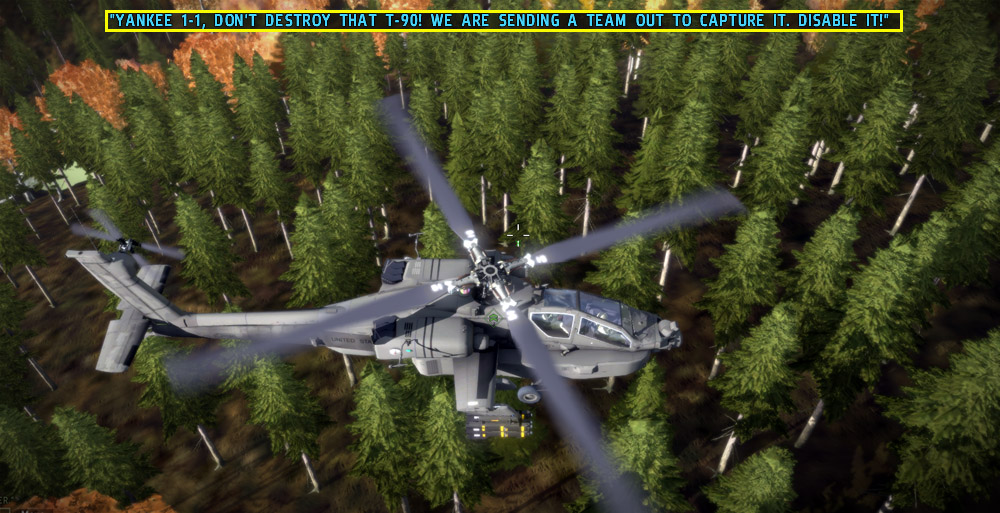 After gaining some distance to the east I come back around and find a nice hill to settle behind and try to tweak my position to get my optics on the target area. Through the TADS I can see several targets and the AA site is deadly accurate with its defensive fire. I lob a Hellfire at one of the truck mounted AA units and it arcs gracefully around the hill on its trajectory…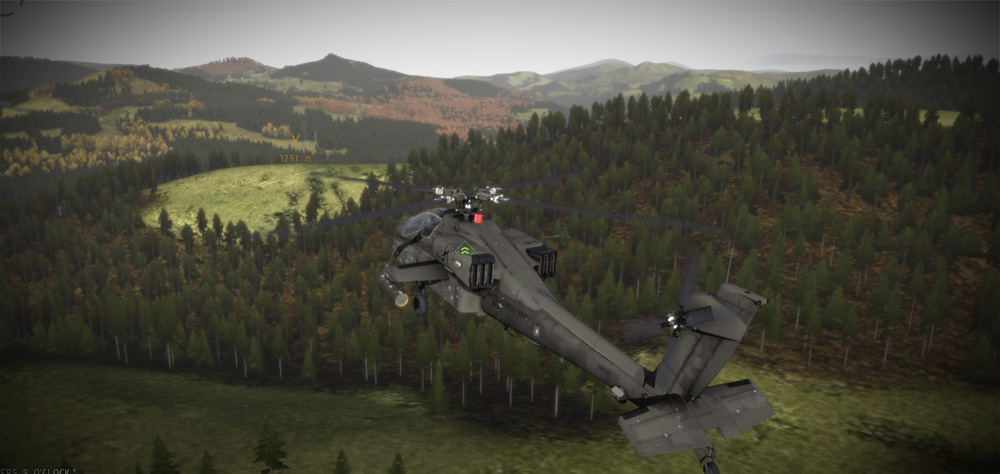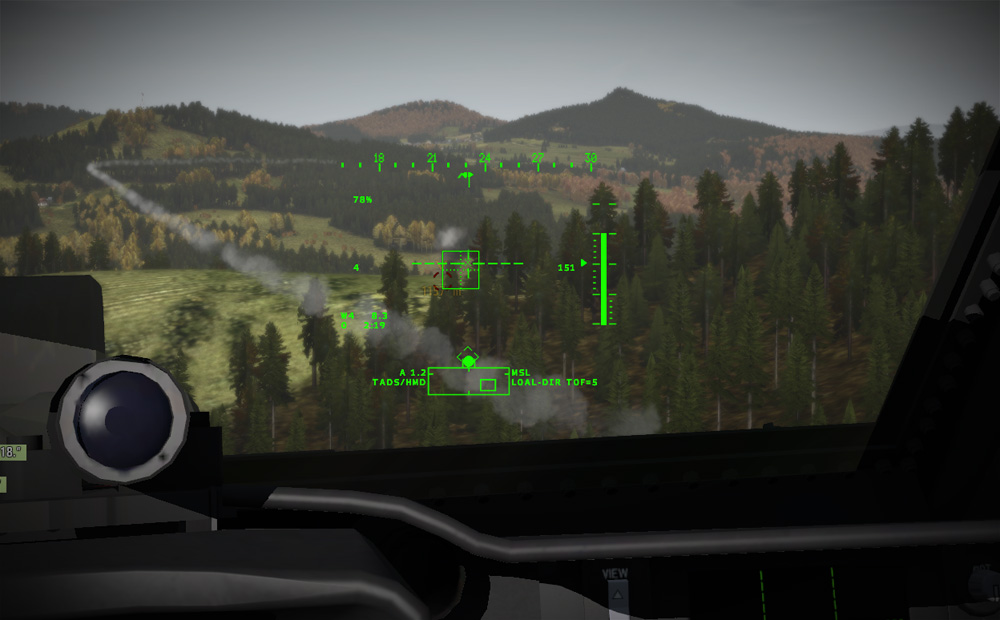 A few infantry are also toting MANPADS and the threat from these is significant…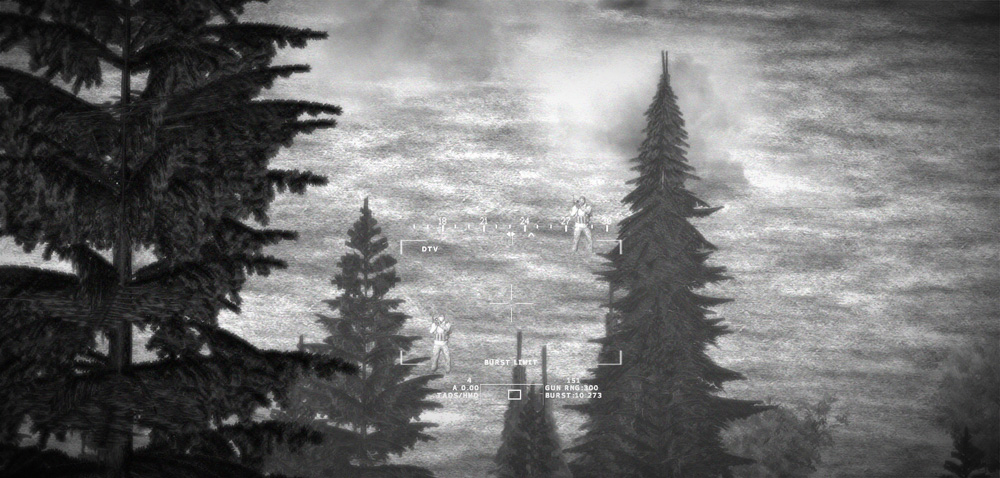 My missile strikes the first AA unit…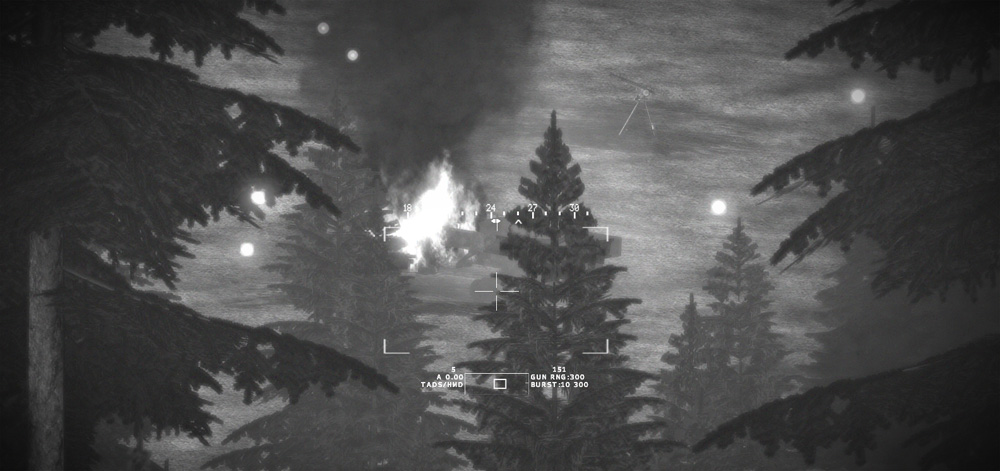 My attack position from the east is not very good and I spend quite a while trying to figure out the right geometry to get stand-off distance plus visibility. I finally hit the right spot about 2300 meters to the north-northwest on high ground looking down into the encampment…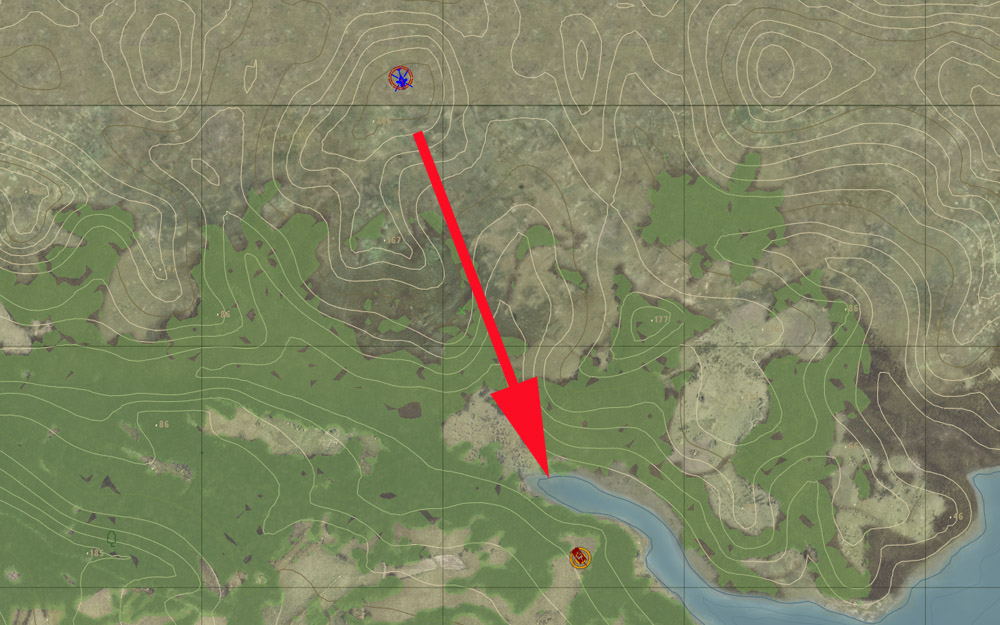 Hellfire away!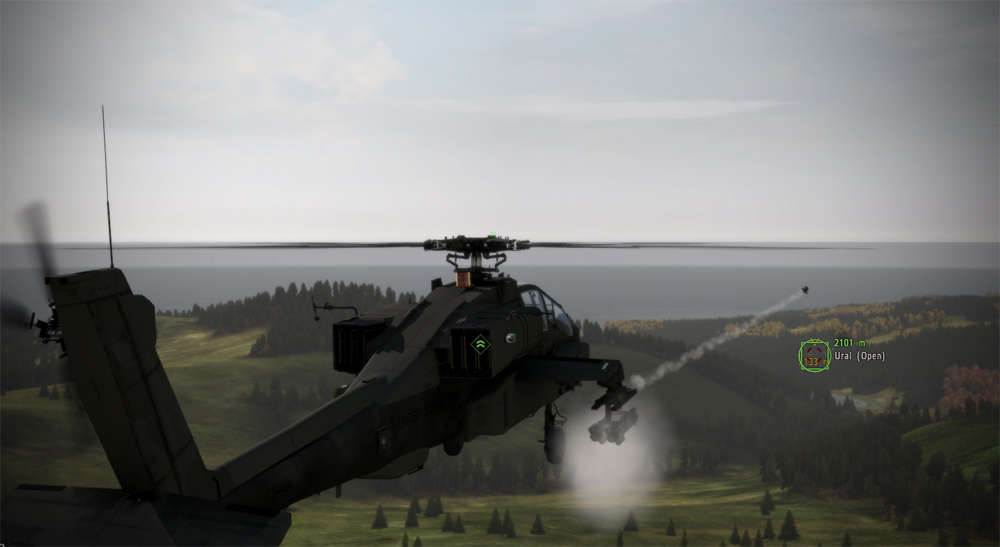 Insurgents also man tripod mounted machine guns…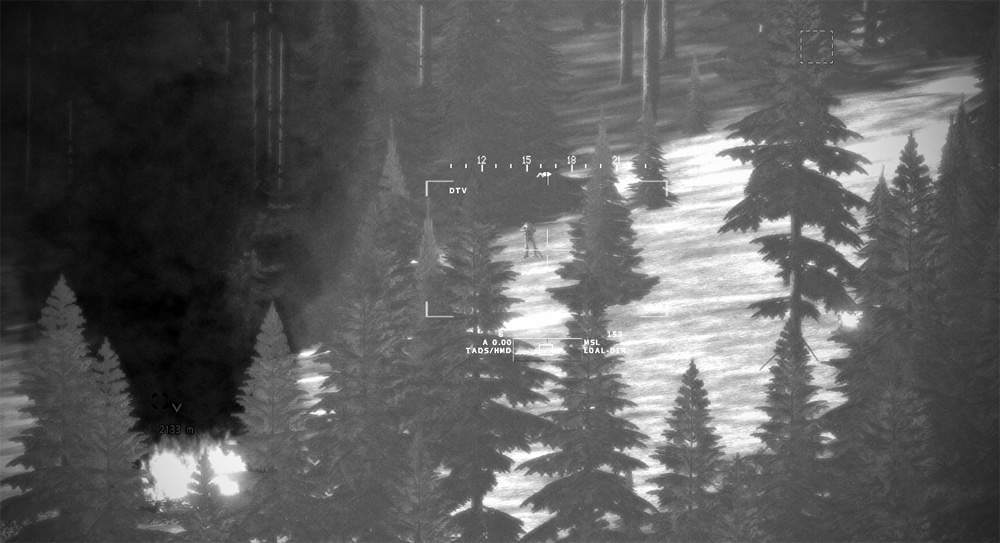 I struggle with the Apache avionics and targeting from lack of practice and the fact that Arma has some clunky interfaces. I also suffer from not having a good keyboard and HOTAS assignment setup yet resulting in slow and imprecise targeting and engagements. I finally figure out a way to manually fire the laser to get a range, but despite looking like I'm on target, my canon splashes don't get a kill on this guy, so I eventually take him out with a Hellfire. Overkill? Most certainly…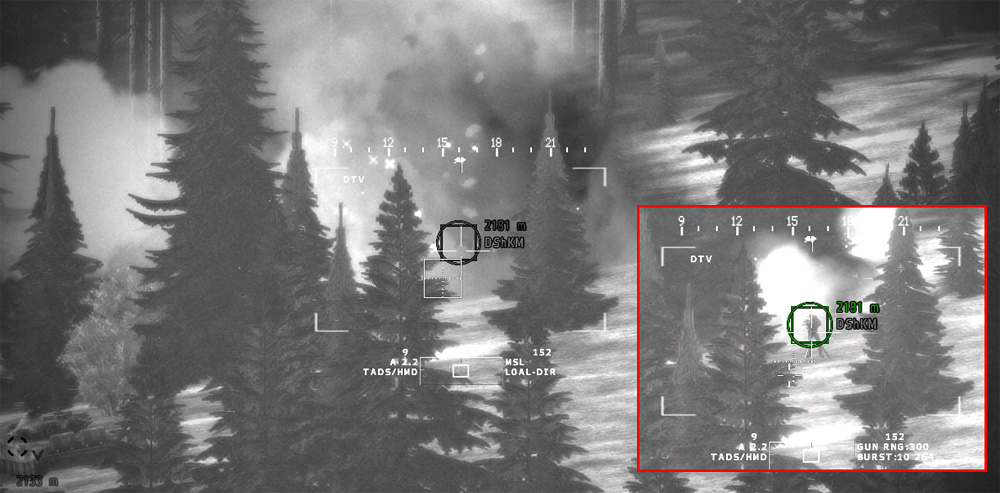 I also pour some canon rounds into the T-90 to achieve the desired result of disabling, but not destroying the tank…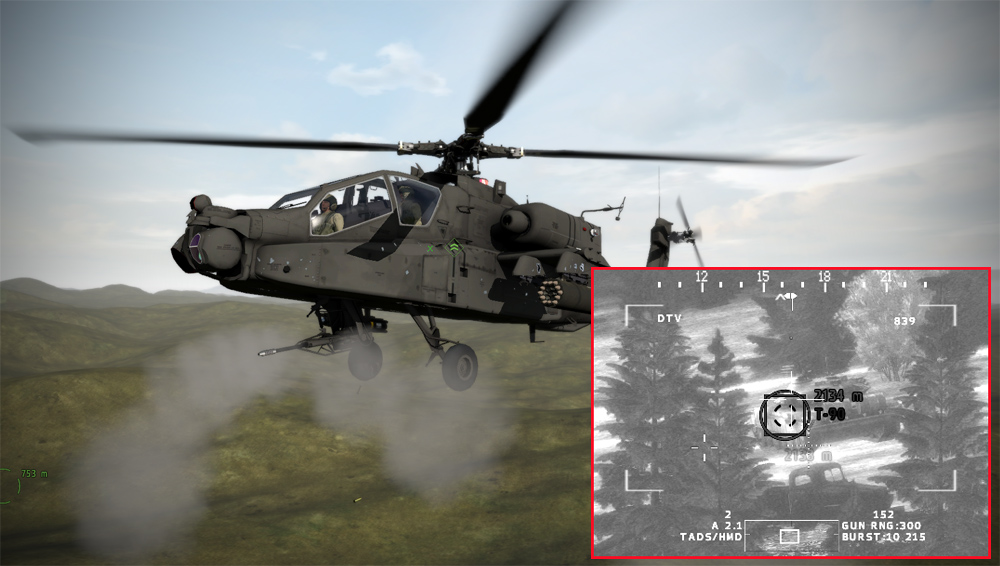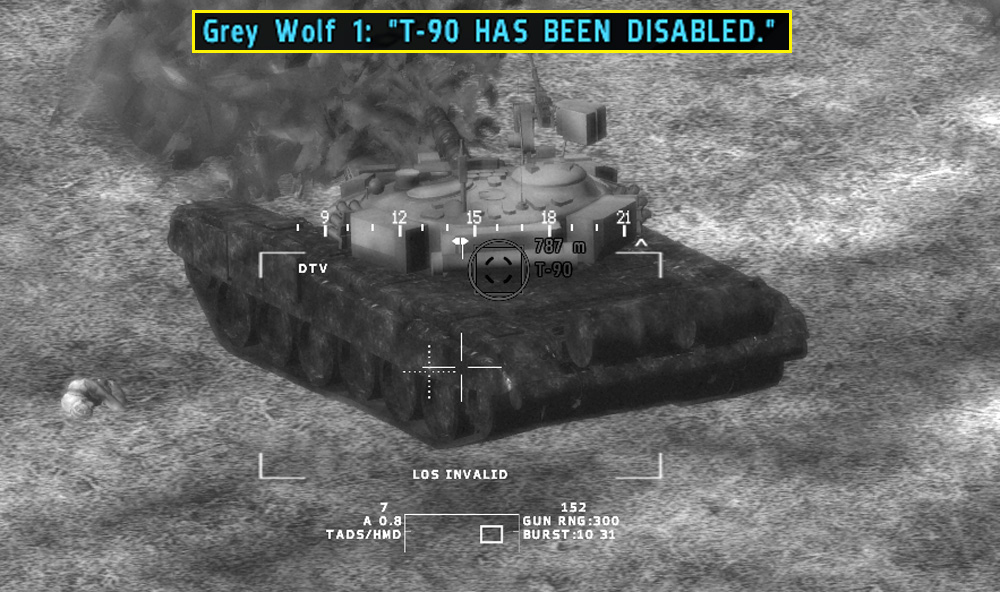 Once the tank has been put out of commission a nearby Mi-8 swoops in and inserts troops into the compound to secure it…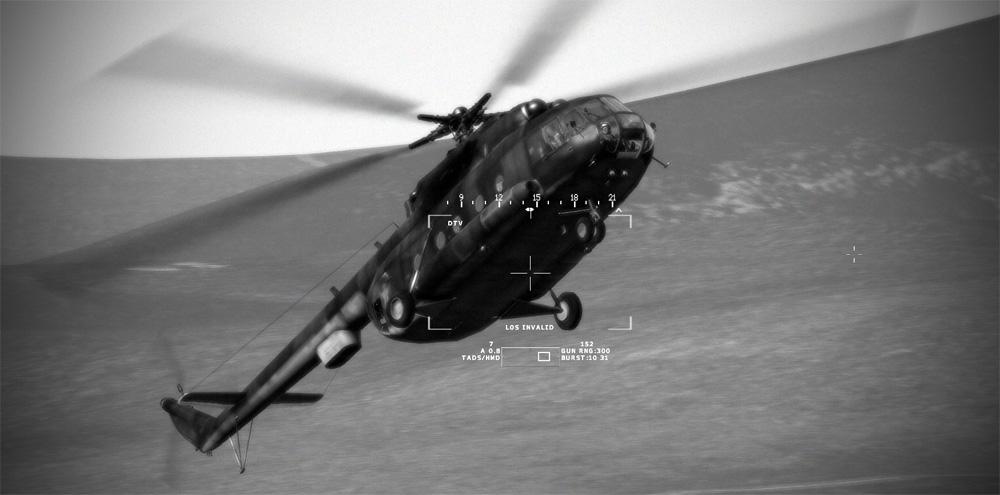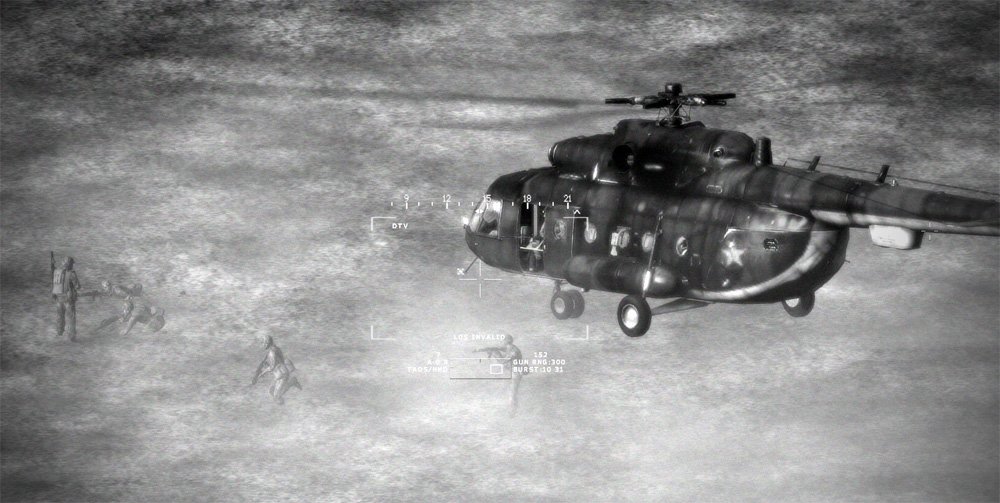 Mission accomplished!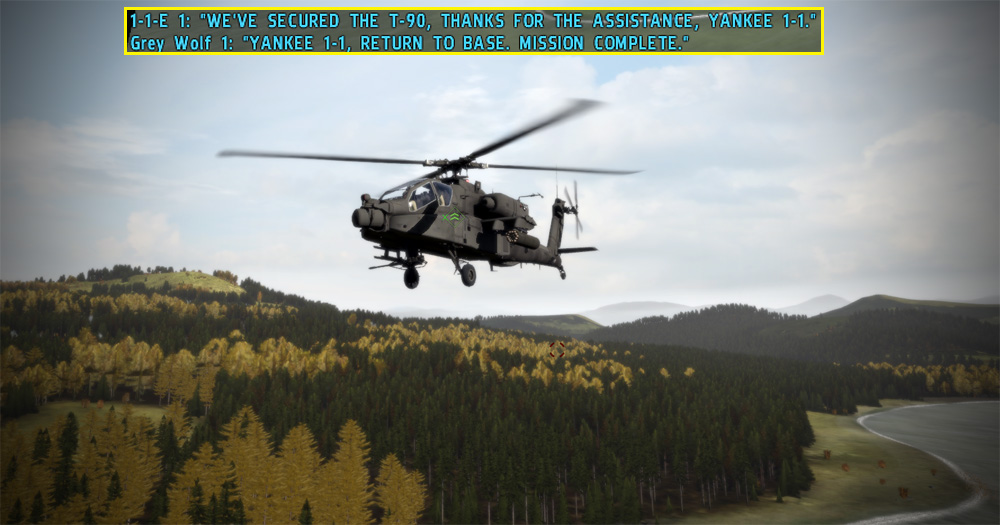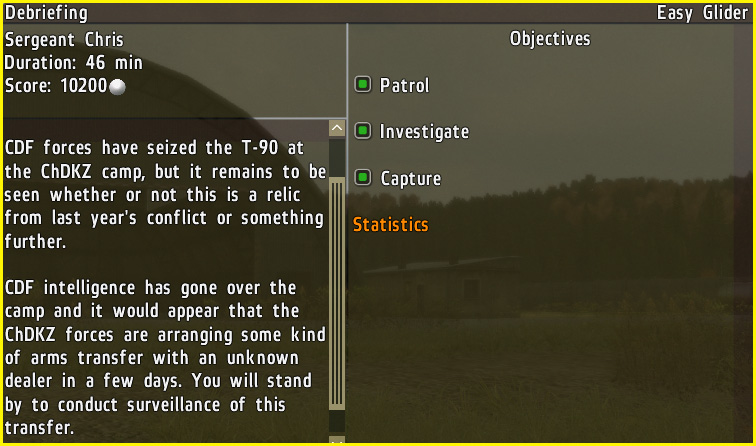 —————————————-
* A few post-mission notes:
This kickoff mission for the campaign was nice, but it was not easy for someone just starting to come to grips with the whole AH-64 / Arma interface. Experienced Arma users will probably have an easier time. Combat flight sim enthusiasts will probably find it fairly frustrating just because there are a LOT of differences in how you do things in the Arma structure as opposed to something like EECH or DCS. I probably flew this mission a dozen times trying to win it without being shot down. Enemy AI on the normal setting is deadly accurate – probably excessively so in my opinion. Being slow on the offensive and hunting and searching for controls certainly didn't help me however.
I flew the mission a bunch of times from both the pilot and CP/G perspectives and the conclusion I reached is that you have better mission effectiveness flying as the pilot and putting your CP/G in a good position to shoot while using standoff range. The only problem is that the CP/G has a better view through the TADS zoomable optics than you do, so there is a definite tradeoff. From a mission enjoyment standpoint – I love being in the CP/G view because of the ability to see up close and devise a strategy, but the AI pilot is not very good at keeping you hidden from view and he must be micromanaged to a high degree. Obviously, the best solution would be to play cooperative multiplayer. As far as I know, there is no way to hop from the pilot to the CP/G view mid-mission short of landing, ordering your #2 out of the cockpit, and getting in and ordering him back in in the other position.
And finally, as I've mentioned before, Arma sure could stand to have a fly-by or drive-by view. I think it is still missing in Arma 3 and it really should be in there. I don't care if you are flying, driving, or running, gamers love watching themselves run by a camera.
I'm looking forward to mission #2 and hopefully getting more familiar with this amazing add-on.